Joue avec Mario & Le Journal d'Aventurier de Link
Genre : Cahier d'activités
Auteur(s) : Courtney Carbone, traduit de l'anglais par David Duhamel
Éditeur : Omaké Books
Langue : Français
Sortie France : 27/06/2019
Prix : 8,50€, Mario & Zelda
Caractéristiques
Pages : 68
Format : 19 cm x 25 cm
Couverture : Cartonnée
Ça y est c'est l'été, et surtout les vacances ! Direction la plage, le sable chaud, les embruns, le repos, enfin ! Mais difficile d'apporter notre distraction préférée, bronzer avec nous, car la Nintendo Switch n'est pas très copine avec le sable… Cependant ne vous inquiétez pas, accros que vous êtes à Mario et Zelda, Omaké Books a pensé à vous pour que vous puissiez être accompagnés des deux mascottes légendaires où que vous puissiez vous rendre. Grâce à deux nouveaux cahiers d'activités sur le thème de Mario et de Zelda, vous aurez de quoi passer le temps au soleil sans risquer d'abîmer votre console. Comme l'annonce l'éditeur, ces deux livres sont destinés aux enfants de 7 à 77 ans, même s'ils sont en réalité plus destinés à un public jeune. Alors si vous ne comptez pas les ranger précieusement dans votre collection, il est toujours temps de remplacer les cahiers de vacances de vos chérubins, ces cahiers là ne seront certes pas très pédagogiques, mais ils auront le mérite de les occuper un petit moment pour qu'ils puissent vous laisser flâner. Ces deux objets étant relativement similaires, le test qui va suivre va les englober, à vous de choisir lequel vous conviendra le mieux ensuite !
Omaké Books nous gâte cet été en publiant ces deux cahiers d'activités, appelés en réalité "Joue avec Mario" et "Le Journal d'aventurier de Link". Tous deux comptent 68 pages bourrées d'anecdotes sur leur licence respective, de quiz, de puzzles, de jeux papiers et coloriages, en d'autres termes, il y a de quoi faire ! Du côté de Mario, les anecdotes vont êtres basées sur des informations historiques au sujet du plombier et de son entourage, alors que chez Link elles sont concentrées sur des astuces pour Breath of The Wild tout d'abord, comme des recettes par exemple, puis des thèmes vont découper le cahier suivant différents titres de la série : dans l'ordre, Skyward Sword, Twilight Princess, The Wind Waker, Majora's Mask et Ocarina of Time. Même si on retrouve quelques designs différents de Mario du premier titre sur Nes à Mario Galaxy dans son cahier, celui portant sur l'univers de Zelda semble plus attirant avec le parti pris de segmenter son contenu en fonction des différents jeux abordés, mais étant moi même un immense fan du héros à la tunique verte ce jugement n'est peut-être pas très objectif.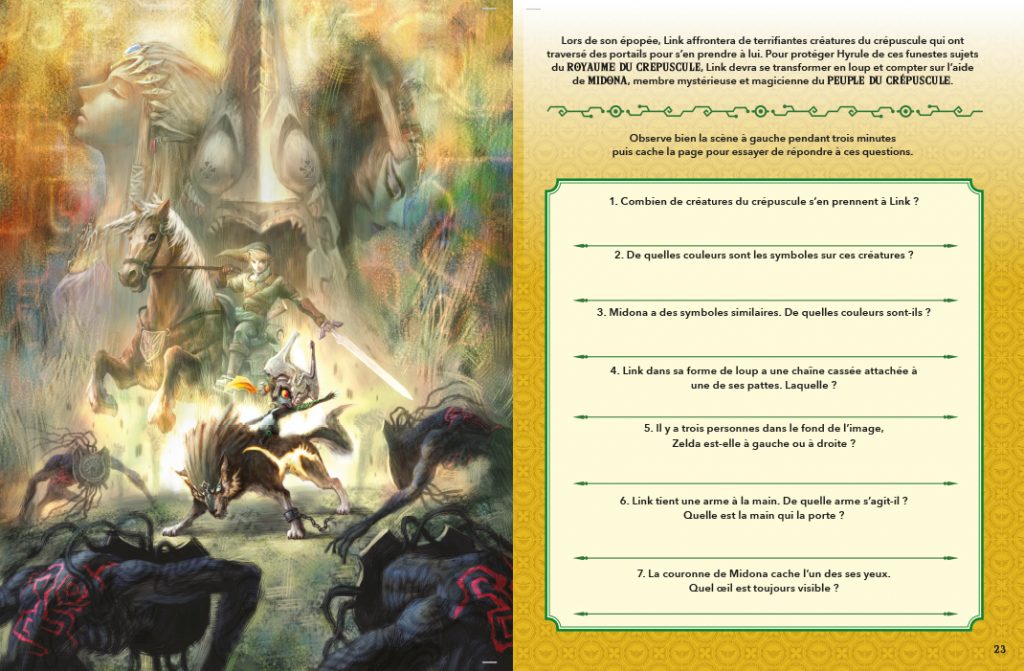 Penchons-nous maintenant plus en détail sur les activités en elles-mêmes, elles sont relativement similaires dans les deux cahiers, mais Omaké Books a su les accorder à la sauce du héros qui est honoré, par exemple, on retrouve le classique jeu de décryptage selon un code précis lié à l'alphabet, et ce code va être composé de carapaces, de pièces et autres champignons chez le moustachu quand il est formé de masques dans le chapitre Majora's Mask de son collègue. Plus en détails, les deux livres offrent mots-mêlés, jeu des différences, coloriages à imaginer ou à remplir, numéros d'art, mots croisés, énigmes, points à relier, labyrinthes, dessins à reproduire sur une grille, jeu de memory, paper toys, et on trouve même un flip book à découper chez Mario pour réaliser un dessin animé de Yoshi !
Difficile donc de leur reprocher un manque de contenu, tant on retrouve là les classiques du livre d'activité proposés en kiosque, et bien plus encore. À la fin des deux ouvrages, on retrouve même les éternelles solutions à certains puzzles, mais gardez vous bien de les utiliser, ce n'est pas joli de tricher, même sur papier !
Et pour finir voici un rapide passage sur la réalisation des livres en elle-même. Les deux cahiers sont imprimés de la même façon, on a une couverture cartonnée et glacée, puis des pages en papier épais pour éviter tout risque que l'encre des stylos ou des feutres puisse les traverser. L'impression est d'excellente qualité, les artworks rendent ainsi merveilleusement bien, et c'est d'autant plus flagrant dans le livre Zelda où l'on retrouve certains visuels mythiques.
Publiés tout d'abord au Royaume-Uni et aux États-Unis par Penguin Random House LLC sous licence officielle de Nintendo, ces deux cahiers ont été traduits par David Duhamel sous la direction de Florent Gorges pour Omaké Books, et le travail est remarquable, l'adaptation française semble être l'originale tant elle est bien réalisée.
Quelle excellente idée de nous proposer ces cahiers juste avant le départ des vacances, car c'est précisément le moment où l'on a envie de se poser un peu et de flagorner avec un petit jeu entre les mains. Qu'on se le dise, toutes les activités contenues dans ces deux cahiers sont relativement simples et s'adressent donc majoritairement aux enfants, mais cela n'empêchera pas les adultes d'y trouver un peu de plaisir, c'est un cadeau parfait pour vos chérubins, et vous pourrez ensuite leur piquer discrètement pour faire un puzzle ou deux, ni vu ni connu… Quitte à choisir une revue de jeux à emporter sur la plage, autant en sélectionner une d'excellente facture sur le thème d'un de nos héros préférés, et ces deux cahiers sont si complets et variés que vous aurez de quoi vous amuser un bon moment. Omaké Books persiste et signe dans sa lignée de concepts originaux avec la sacro-sainte licence Nintendo, et on ne peut que vous recommander ces petits amuse-bouches à emporter partout avec vous, sans oublier quelques crayons !
ACHETER VOS LIVRE AU MEILLEUR PRIX ICI ET ICI